Dog's health above all
For our loyal customers and those who joined us lately we created this

FREE Newsletter

, which you can subscribe for right here on this page! This is an alternative pages, our archive of all sent Newsletters for you not to miss something interesting, topical, life themes and discussions. Join us, learn everything you're interested in, get to know more about your dog's life and features and enjoy reading this intertaining, yet informative source!!
Your Rotty is no doubt a source of constant happiness for you and your family. Your heart starts beating faster when you watch him playing and jumping joyfully. The picture of running dog, who is the happiest critter in the whole universe just because you came home, can erase all the troubles and make you forget everything.
But let's face the sad truth... life doesn't consist only of pleasant moments. They say we are responsible for those we tamed. I know for sure that being a truly responsible owner you care about your Rottweiler and do everything for him to be healthy and happy.
It's not a secret that puppies are more sensitive to deseases than adult dogs. It's vital to follow all necessary precautions to protect your "sweetie" from various hazards. Of course if you aren't professional vet, it's difficult sometimes to watch over everything. However, it may be extremely useful to know several general statements as for vaccination and dog immune system. Believe it or not but we are eager to give you as much information about your favourite breed as possible. That's why along with various high-quality products we would like to offer you to read this article.
We do care about your dog! Starting with his comfort and up to his health and mood ;)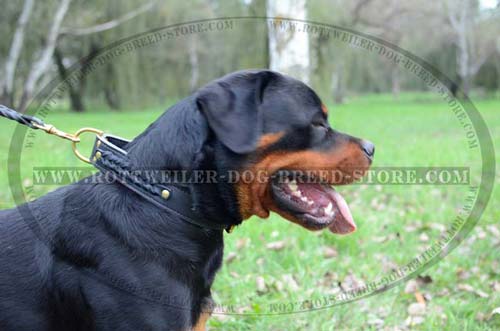 Wonder where to get this Braided Collar? Click on the picture and order now!
Every dog has two types of immunity (immunity against infectious diseases)-inbred and acquired. An Inbred immunity is passed from mother to its posterity, but an acquired one develops after vaccination or if a dog already had some disease and therefore now its body is immune against agents of this disease.
The most exciting and expected occasion in our family of happy dog owners and satisfied customers is happening again! We are glad to announce that second Photo and Video Contest is a unique opportunity for you to share pictures of your gorgeous dog and win the main prize!
It's very easy to do. All you need is to upload picture or video of your pet

HERE

and you are already a participant! Want to win? We bet you do! Then tell your friends and relatives so they will vote for your pictures or videos. Enter today and you will have more chances to win!
Your dog deserves to be admired by other dog owners!

---