Every Rottweiler needs a friend
For our loyal customers and those who joined us lately we created this

FREE Newsletter

, which you can subscribe for right here on this page! This is an alternative pages, our archive of all sent Newsletters for you not to miss something interesting, topical, life themes and discussions. Join us, learn everything you're interested in, get to know more about your dog's life and features and enjoy reading this intertaining, yet informative source!!
Nobody can live a happy life without friends. This statement is true both for people and dogs. Does your Rotty have friends? Of course, you are the biggest and the best friend for him.
However, your dog develops faster if he communicates with other dogs, that belong to the same breed. If your dog is a puppy, other Rotties can be good teachers and protectors for him. If your pet is adult, other dogs may be awesome friends to spend time with.
It's impossible to express all joy, your dog feels when running, jumping and playing with his congeners. How does your dog react when he meets other Rottweiler? Does he fawn and show that he is open for new connections? Great! It means you have very friendly and even-tempered pet. If your Rotty is a puppy, no doubt he will be happy to see any living being.
However, please be careful, dear Rottweiler owner. In the article below we tried to consider what dangers your puppy may face when socializing with other dogs. By the way, it may apply to adult Rottweiler as well. We will be extremely happy if you will find this article useful.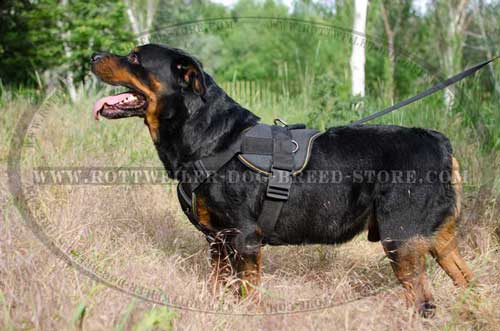 Eager to buy something new and original for your pet? Check this product!
Generally, any physical pressure, especially for young Rottweilers, is to be strictly measured out. Rottweiler will be ready to go up and down the stairs on its own, as well as jump, take a hurdle, etc. as certain grounds of muscles (mainly muscles of back and hind limbs) turn to be well-developed and trained.
Fashion Spiked Buckle Collar for Great Rottweiler Dogs


Dog collar looking so great is a perfect choice for your canine. Walking your Rotty with this collar on you will immediately notice how surrounding people fix their eyes on your dog's appearance. It is easy to understand – your pet's collar has distinguished exterior! If you need long-servicing accessory for your pet – you should own this collar as soon as possible.
---