Find information about Rottweiler's origin
For our loyal customers and those who joined us lately we created this

FREE Newsletter

, which you can subscribe for right here on this page! This is an alternative pages, our archive of all sent Newsletters for you not to miss something interesting, topical, life themes and discussions. Join us, learn everything you're interested in, get to know more about your dog's life and features and enjoy reading this intertaining, yet informative source!!
Weekend is at hand! That's probably the best time to pay as much attention to your Rotty as possible. I'm sure you've noticed many times how people react when they see your dog. Let me suppose that at least half of them (and i'm actually sure even more ;) are amazed with strength and beauty of Rottweiler.
I think there are also a lot of people who ask you questions like "What breed does this dog belongs to?" And you are probably like "Come on, guys! Don't you know? This is a gorgeous Rottweiler!" The question I mentioned as an example is very simple, but seriously are you sure you know much about the breed your doggie belongs to? Can you tell what country is the motherland of Rottweilers? Do you know what were Rotties used for many years ago?
Just imagine how you are proudly telling all this information to the next person, who became interested in your unbelievably pretty dog! There is no need to spend hours searching in the Internet, because the article below has brief but full information about Rottweilers' history. Besides, you will be able to watch short video from Rottweiler Open Show. Spend several minutes and get useful information about your dog's origin!
Wish you plans for the weekend will come true and don't forget to take your pet with you ;)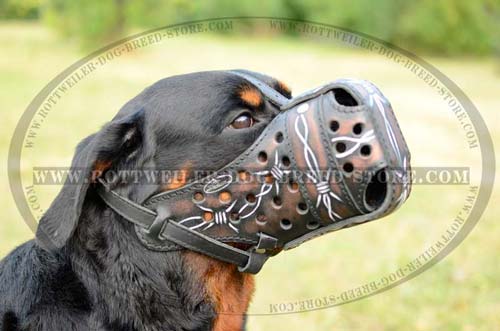 Wonder where to get this Handpainted Muzzle? Click on the picture and order now!
Development of the breed and service dog clubs
Due to the fact that owners of Rottweilers were often meat-salesmen, this breed was named a butcher's dog. In its historic native land Rottweiler is also known as "Rottweiler's dog of a butcher" (in German-"Rottweiler-Metz-Gerhund"). The city Rottenburg bears a direct relation to the origin and development of this breed and its location is in Germany.
---