Find out more about your dog's nature
For our loyal customers and those who joined us lately we created this

FREE Newsletter

, which you can subscribe for right here on this page! This is an alternative pages, our archive of all sent Newsletters for you not to miss something interesting, topical, life themes and discussions. Join us, learn everything you're interested in, get to know more about your dog's life and features and enjoy reading this intertaining, yet informative source!!
The winter is slowly drowing back and the spring reclaims more and more energy. I'm sure your Rotty adores warm weather and as a result the opportunity to spend more time outdoors. Don't deprive him of these happy minutes or hours!
I've already mentioned two possible reasons why you might choose Rottweiler and unfortunately there is only one more chance to do it. Being a reasonable person you most likely thought a lot about what breed to choose. What might help you to get all the necessary information about any dog breed? Of course, there are dozens of useful articles and sites in the Internet. Did you considered your present circumstances and choose Rottweiler, because he is the best family dog? Did you choose him because he is easily trained? Anyway I'm certain you aren't disappointed in your choice!
Nobody knows your dog better than you, dear friend. However, it may be interesting for you to compare the nature of your pet to the common features, Rottweilers posesses. You will likely find some new information as well after reading the article below.
Have a spring mood and happy reading!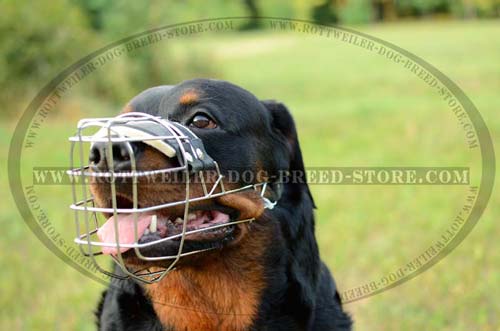 Nature and habits of Rottweiler
Rottweilers usually have strong, stable nervous system, resistant to exogenous irritants, and that considerably facilitates work of a trainer when he teaches the dog. Nature of Rottweiler is well-balanced; the animal is friendly towards the wider public including children. In most cases Rottweiler is able to get accustomed to its owner very quickly, respond to his commands and eagerly execute them. It is not still teeth presentation but the preparation for it is apparently in progress!
---