Make sure your Rottweiler has a perfect appearance
For our loyal customers and those who joined us lately we created this

FREE Newsletter

, which you can subscribe for right here on this page! This is an alternative pages, our archive of all sent Newsletters for you not to miss something interesting, topical, life themes and discussions. Join us, learn everything you're interested in, get to know more about your dog's life and features and enjoy reading this intertaining, yet informative source!!
You are a happy owner of beautiful and powerful Rottweiler and I'm sure you cordially love your pet. I always wonder how people choose the breed of the dog. I mean, there are so many wonderful breeds, each of them is unique and has it's peculiarities. It's rather difficult choice, ha?
So, what were your reasons to choose Rottweiler? I'm dying of curiosity to know about it, but let me guess or name just a few possible reasons, that determined the breed of your favourite dog.
Personally I, when looking for a puppy, pay special attention to his appearance. Yeah, yeah I know, they say appearance isn't important. But, we both know, that it's not completely honest statement ;) I'm sure you are very proud when people admire your strong Rottweiler, walking in the street. Naturally, we are proud when we have best of the best!! By the way, if your dog is a puppy still, I hope it will be quite interesting for you to know about the standard of the breed, just to have a certain guideline. And in case your Rotty is a full-grown and developed dog, the article will help you to compare your dog's appearance with that, appropriate for dog shows. Who knows, may be it's time to prove everybody that your Rottweiler is a true champion?
Well, I doubt I guessed the reason why you chose Rottweiler breed, hopefully it's not the last time we communicate ;)
So, let me wish you and your dog a pAwesome week! Don't forget, that life is amazing and your doggie is irreplaceable part of it!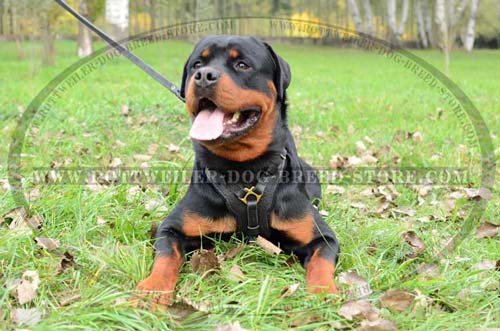 General Appearance
Ideal Rottweiler is a medium large, robust and powerful dog, black with clearly outlined rust markings. This dog is neither heavy, not light, neither on the leg, nor lympathic. Its balanced, compact and powerful constitution includes a great strength, dexterity and endurance. Male dogs are typically more massive throughout and their frame is larger and their bone is heavier that in females. The bitches are distinctively feminine, but without weakness of substance or structure.
| | |
| --- | --- |
| Best makers of dog production have designed Ideal Winter Handicraft Dress for Rottweiler breed. It is Trendy Colorific Coat for the breed. The Coat was made in line with Rottweiler's anatomical peculiarities in order to sit on the dog perfectly. | |
---